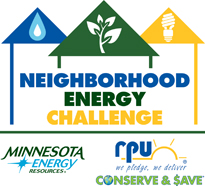 RPU and Minnesota Energy Resources have teamed up with the Center for Energy and Environment to offer Rochester homeowners the Neighborhood Energy Challenge (NEC), a full-service residential energy audit program.
The Neighborhood Energy Challenge includes:
Free Energy Workshop. Attendance to our free "Saving Energy 101" workshop is mandatory to participate in the program – and a great opportunity to learn new no- or low- cost strategies to stop energy waste, all while visiting with your neighbors. Free childcare is provided.

Home Visit and Materials. At the workshop you will have the opportunity to sign up for a Home Visit, where our crews of energy professionals will visit your home for an hour and a half to run diagnostic tests (like a blower door to test air leaks), install energy-saving materials, and find your home's best opportunities for saving energy and reducing your utility bills.

Help With Next Steps. If our crews find an opportunity for significant savings through installing additional insulation, attic air sealing, or replacing old heating equipment, we can make the next steps easy by connecting you with qualified contractors, financing, incentives, and rebates.
The Home Visit, Materials, and Recommendations are all included in a one-time $50 fee.
Materials provided may include:
Gasket seals
Safety caps
Compact fluorescent light bulbs (four styles)
Pipe insulation
High-efficiency faucet aerators
High-efficiency showerhead
Workshop Dates
Saturday, November 18, 2017
10-11 am
Northrop Community Education Center - Room 308
201 8th St NW
Saturday, March 10, 2018
10-11 am
Northrop Community Education Center - Room 308
201 8th St NW
Saturday, May 10, 2018
6:30-7:30pm
Northrop Community Education Center - Room 316
201 8th St NW
For questions regarding the Neighborhood Energy Challenge or to sign up contact Stacy Boots Camp at 888.734.6365 or sbootscamp@mncee.org.
*Workshop dates and locations subject to change.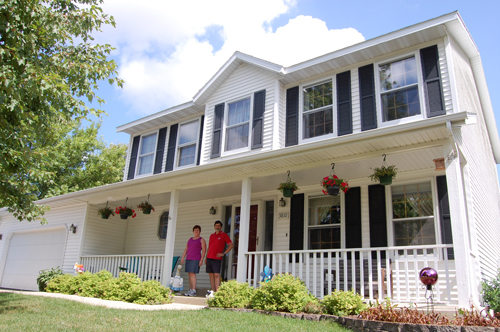 At the Neighborhood Energy Challenge workshop, we learned new things and realistic suggestions for our home. It was helpful to interact with other homeowners and learn more from the questions they asked. Our energy auditor was professional and easy to work with. He explained things to us and answered our specific questions, and presented us with options and reasoning to help us make informed decisions. The knowledge we acquired, from both the workshop and energy audit, has aided us in implementing conservation and energy efficiency improvements to our home.

Tony & Lynn Drumm, Rochester Homeowners