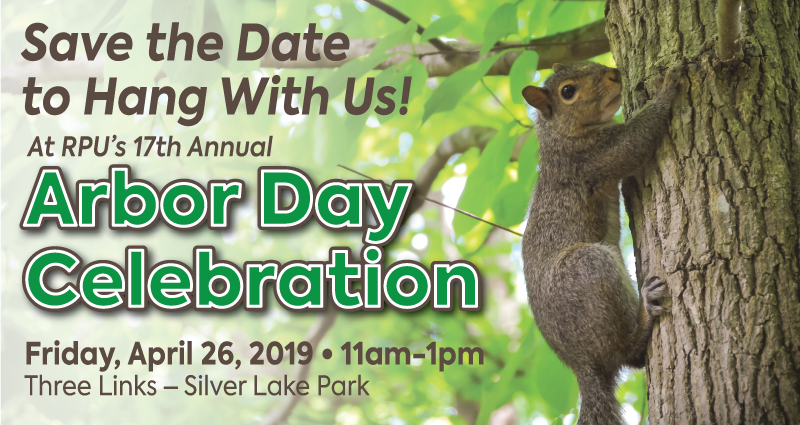 Rochester's Annual Arbor Day Celebration
Partnering Sponsors - Rochester Public Utilities (RPU), Maier Tree & Lawn, and Rochester Parks & Recreation hold an Annual Arbor Day Celebration on the last Friday in April every year.
The celebration is held between 11 a.m. and 1 p.m. in Rochester and is open to the public. The festivities include live music, lunch, free trees, various vendors, and many family activities. Winners of the elementary school Arbor Day Poster Contest are also announced.
This year, our 17th Annual Arbor Day Celebration, will be held on Friday, April 26, 2019 at Three Links – Silver Lake Park, located at 840 7th St NE in Rochester. As in past years, if there is extreme weather, the event will be moved indoors to Rochester Community and Technical College's Field House.
Co-Sponsors include: Hy-Vee, Jim Whiting Nursery & Garden Center, Minnesota Energy Resources, Sargent's Gardens, and Seneca Foods.
Participants include: Boys & Girls Club of Rochester, Minnesota Children's Museum Rochester, Minnesota Department of Natural Resources, Olmsted County Environmental Resources, Quarry Hill Nature Center, Rochester Police Department, Rochester Public Library, Rochester Public Works, Rochester Water Reclamation Plant, Sekapp Orchard, and Zumbro Valley Audubon.
The festivities include:
Free Admission
Free Food – Hot Dogs, Chips, Corn on the Cob, Cookies, and Soda
Presentation of the 2019 Poster Contest Winners
Live Music from PK MAYO TRIO (formerly known as Paul Mayasich and his band, American Made Music)
Smokey the Bear
Free Trees
Chainsaw Carving by Steve Elliott
Giveaways
Family Activities including:

Magic by Terry Lee
Go! Play! Explore! Mobile Rec trailer by Rochester Parks & Recreation
Bean Bag Toss Game
BookBike and ArtCart by Rochester Public Library
Temporary Tattoos
Bird Wheel of Fortune Game by Zumbro Valley Audubon
Tree Medallion Necklaces
Give Recycling A Shot by Olmsted County Environmental Resources
Apple Toss Game
Meet "The Clog" by Rochester Water Reclamation Plant

And much more!
Download the 2019 Arbor Day Flyer for more information.


The 2019 winners were (click each one to view the winning poster):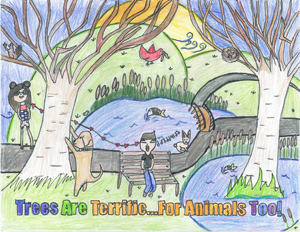 View our 2019 Calendar that includes our 2018 Poster Contest Winners!