As your local "energy experts," we continue to offer learning opportunities for our customers that cover a wide range of topics. Scroll down below for a full listing of educational opportunities.
---
Community Education Classes
Neighborhood Energy Challenge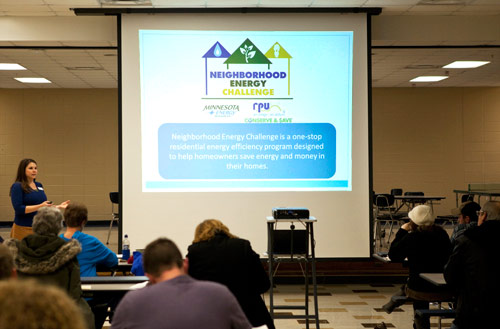 RPU and Minnesota Energy Resources have teamed up with the Center for Energy and Environment to offer Rochester homeowners the Neighborhood Energy Challenge (NEC), a full-service residential energy audit program.
Learn more about the Neighborhood Energy Challenge
Electric Vehicles – They Are Coming, But Are They For You?
This course will introduce you to the world of electric vehicles (EVs) with the first night being a one hour education session and the second night, an opportunity to drive a variety of electric vehicles. Some of the topics include: the history of EV's, battery chemistry, charging, range, calculating individual cost savings, calculating emissions savings, available vehicles, and the future. Whether you are considering purchasing now or in the future, this course will help you decide what vehicle is best for you and what the benefits are by going electric.
Instructor: Dru Larson
Bio: Dru Larson is an Energy & Environmental Advisor for Rochester Public Utilities. He holds a mechanical engineering degree and is certified by the Association of Energy Engineers as a Certified Energy Manager. He has been active in multiple statewide and local initiatives to educate and promote the fun, value, and environmental impact of electric vehicles.
Date: Tuesday, September 28 and Wednesday, September 29
Time: 6:00-7:00 pm
Cost: FREE
Location: Northrop Community Education Center: Rm 308
201 8th St. NW
Rochester, MN 55901
REGISTRATION: Registration for this Community Education class will be available on Monday, August 2, 2021 at https://rochester.ce.eleyo.com.
Solar Energy for Your Home or Business
Learn about solar electric and heating systems from the experts. Many installation photos will show you how they look and how they are installed. Many questions addressed such as: How well does solar energy work in Minnesota? How much energy do systems produce? What are the costs involved and economics? What incentives are available? Is there maintenance? There will be plenty of time for questions and discussion.
Instructor: Micah Johnson
Bio: Micah is the operations manager for Solar Connection of Rochester, MN. In business since 2010, Solar Connection installs solar energy systems for commercial, residential, and farm applications. Solar Connection is a licensed general contractor and NABCEP™ Certified for PV Installation. NABCEP is the National Board of Certified Energy Practitioners.
Date: Saturday, October 9, 2021
Time: 10 am-12 pm
Cost: FREE
Location: This class will be held online. You will receive an email 2 days prior to the class date with directions on how to join the class.
REGISTRATION: Registration for this Community Education class will be available on Monday, August 2, 2021 at https://rochester.ce.eleyo.com.
MMUA 'Tom Bovitz Memorial Scholarship Award'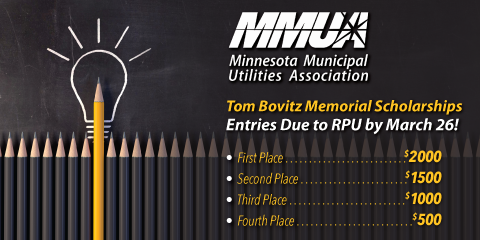 Purposes
To give something back to the community.
To increase awareness of public power.
Prizes
The scholarship fund is split into $2,000, $1,500, $1,000 and $500 scholarships, and awarded to essay contest winners who plan to attend a post-secondary educational institution.
Guidelines for submission
Because decisions by judges and disqualifications according to the guidelines are final, entrants should read and follow these guidelines closely:
Entries are to interpret one or more aspects of the theme, "Municipal utilities: good for all of us." This applies to municipal electric and natural gas utilities. Judges will look particularly for originality and the relevance of the theme to the writer and his/her city.
High school seniors are eligible. Those eligible must be, or have as a legal guardian, a customer of an MMUA-member municipal electric or gas utility.
Essays are to be original and from 500 to 750 words, typed and double-spaced.
All essays should include a cover page, with the writer's name and address.
Entries shall be submitted to the governing body of the municipal utility. (The local governing body may appoint a separate individual or group to judge entries.) The local governing body will send the winning essay to MMUA for entry into the statewide contest. A committee of MMUA members will select the winners, with an announcement by mid-May.
An independent person or body may be designated to select the winner of the local essay. If there is an independent body selecting the winner and they do not know who wrote which essay, relatives of utility personnel are eligible to enter the contest.
Resource Materials
Your local utility is the best resource for information and printed materials. Do not solely rely on the website and information from the internet. Local resources and interviews will provide you with more detailed information on your utility background, operations, and goals. Contact Tony Benson at RPU 507.280.1534 as a resource if needed. You may also want to visit www.mmua.org and www.publicpower.org.
Payment
Scholarship money will be payable upon receipt of fee statement copy from an accredited post-secondary educational institution. The award check will be made payable to the contest winner and the post-secondary institution. If the contest winner does not attend an accredited post-secondary educational institution within two years, the money will revert to a trust fund and become available to future contest winners.
Due Date
Deadline to Rochester Public Utilities is Friday, March 26, 2021.
Contact info
For questions regarding the MMUA scholarship contact Tony Benson at 507.280.1534.
Essay Materials and Deadline
Facility Tours
RPU is proud to be part of the Rochester community, and we would like to share our expertise and knowledge with you. Tours are available by request. Certain facilities may not be available for tours due to safety, security, or maintenance reasons.
For general information on RPU, to schedule tours of our facilities, or for media inquiries, please contact:
Tony Benson
Communications Coordinator
RPU
4000 East River Road NE
Rochester, MN 55906
Phone: 507.280.1534
Email: tbenson@rpu.org