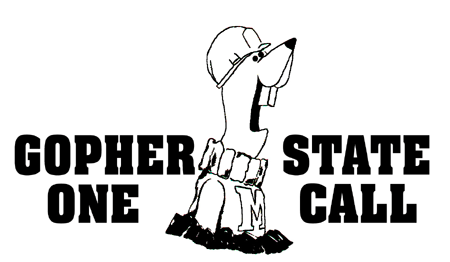 Call Before You Dig: 1.800.252.1166
Protect yourselves and your property against underground utility damage. Find out where the underground utilities might be buried before you begin excavation. Anyone working in Minnesota must call before excavating.
This is a FREE service provided by Gopher State One Call (GSOC).
Helpful Tips
You should call GSOC two (2) business days before digging. Business hours are 7 a.m. to 5 p.m., Monday through Friday.
If you hire a professional excavator, they are responsible for contacting Gopher State One Call.
Mark the digging area with white stakes or white spray paint, otherwise the utility might locate your entire lot.
You must not dig any closer than two (2) feet from any utility markings.
*Gopher State One Call can only locate services that utilities have installed.
* RPU does not locate private lines that belong to the homeowner or property owner. This can include electric lines to detached garages, invisible fencing, sprinker lines, decorative lighting, or entertainment spaces away from the house. It is the responsiblity of the homeowner or property owner to have these lines located before excavation.
Private Locators in Rochester
ELM Locating – Kenton Munthe 507.993.0673
Brad Johnson 507.219.8081
Additional private contractors are available on the Gopher State One Call website.
Additional Resources