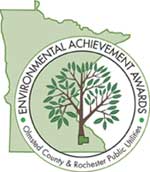 Recognizing community members, businesses, and organizations that make a significant contribution to environmental quality in Olmsted County is at the core of what the Environmental Achievement Awards stand for.
The awards were developed in 1992 to recognize individuals and groups that are making Olmsted County a more sustainable community through innovative programs and practices that demonstrate environmental leadership.
Categories available for nomination include climate change, conservation, education, energy, renewables, sustainable food production, water, and other.
To nominate an individual, family, youth, organization, farm, or business you can print off the standard nomination form or fill in the online nomination form and print off when completed.
Completed nominations for 2018 are due by Friday, October 5, 2018 to Anthony Wittmer.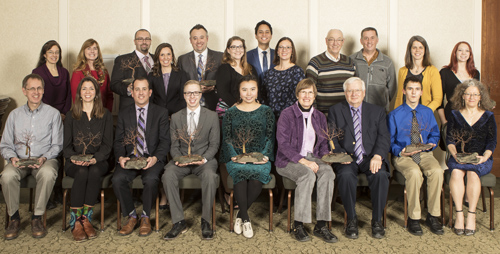 The 2017 Environmental Award Recipients
Clifford Hansen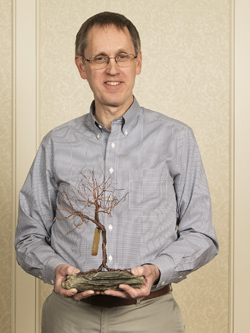 Clifford Hansen is an environmentalist who wears many hats. He has served on the Zumbro Valley Audubon Society Board of Directors since 1996 and has been the secretary since 2000. He has led the annual Christmas Bird Count, gathering data to better understand the relationship between global warming and migratory patterns, since 2001.
In 2010, Clifford began volunteering at Quarry Hill Park. He has helped restore sections of the park to its native flora by removing invasive species and has inspired others to do the same. When he's not clearing buckthorn and garlic mustard, he shares his knowledge with community members who visit the Quarry Hill Nature Center.
Additionally, Clifford is a citizen forester group leader with RNeighborWoods, an organization that promotes the communal benefits of trees. Clifford has helped plant hundreds of trees throughout Rochester neighborhoods.
Lida Casper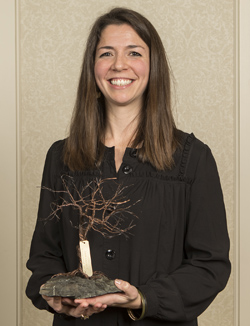 On May 5, 2017, hundreds of students, teachers, and volunteers came together for a garden party at Riverside Central Elementary School. Students and community members were introduced to the benefits of locally grown food and learned how to be responsible environmental caretakers. Lida Casper, the event organizer, collaborated with the following local partners to make the day a success:
The Boys & Girls Club of Rochester
Olmsted County Public Health
University of Minnesota Rochester
Redeemer Lutheran Church
United Way of Olmsted County
Rochester Alternative Learning Center
Affinity Plus Federal Credit Union
Students helped build the garden boxes, filled them with a mixture of soil and compost, planted vegetable seedlings, learned how to cook using local ingredients, and much more. Produce harvested in the summer was brought to the school's Community Resource Room to support families in need.
Hy-Vee Rochester Stores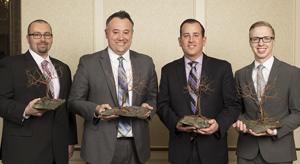 By integrating an environmental ethic into their operations, Hy-Vee is demonstrating what's good for the environment can also be good for business. Company-wide, Hy-Vee sells responsibly sourced seafood, participates in the "Misfits" program—an initiative to combat food waste by selling discounted produce that doesn't meet traditional cosmetic standards—and recycles millions of pounds of cardboard, plastic, and paper every year.
In addition to these policies, each of the four Rochester stores has partnered with Community Food Response (CFR) and the Channel One Regional Food Bank to divert food waste. Last year, the stores collectively donated over 164 tons of food (22 tons to CFR and 142 tons to Channel One).
Zoey Jantsan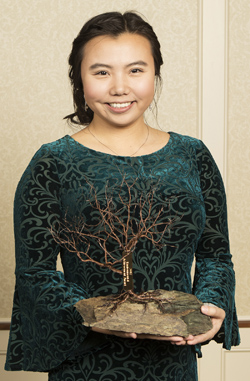 In 2017, Zoey Jantsan was crowned Miss Minnesota U.S. International. She ran on a platform of environmental conservation and has used her time in the spotlight to share her passion. Her top five memories of this past year include:
Delivering a keynote speech at the second annual Trashion Show—an "upcycling" fashion show that raised money for the Minnesota Audubon Society
Designing and modeling a wardrobe for Studs, Struts, and Stilettos—another "upcycling" fashion show that raised money for Habitat for Humanity
Emceeing at the third annual Earthfest Expo
Volunteering throughout the year at the Rochester Public Library by reading to children
Delivering a petition to City Hall with members of the Sierra Club, promoting sustainability in the construction of government-funded buildings
John and Patty Trnka
John and Patty Trnka have dedicated countless hours to controlling invasive species within Olmsted County Parks. Each week from March through December, the Trnkas make rounds through Chester Woods and Root River Parks. They identify areas infested with invasive species, develop an eradication plan, and train other volunteers in the eradication process.
In the fall, John and Patty lead volunteers in collecting seeds from native grasses. These seeds are stored and later planted in areas that have been cleared of invasive species. The Trnkas also assist with record keeping at Root River Park.
Max Campeau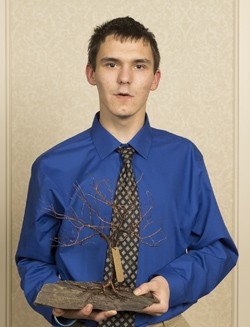 Inspiring teenagers to pick up garbage on a Saturday afternoon isn't easy. But that's exactly what Max Campeau did last April when he organized a clean-up event along the banks of the Zumbro River near Pine Island High School. Approximately 25 students picked up litter along a two-mile stretch of river, starting at the high school and ending at the outdoor classroom, where volunteers planted new habitat in the butterfly garden. The group also planted 50 tree seedlings that had been donated by the Minnesota Department of Natural Resources. The litter collected at the event filled over 30 garbage bags.
Becca Jacobson and Annette Homburger – Stewards of Hope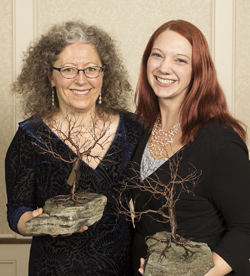 Becca Jacobson and Annette Homburger started Stewards of Hope as a partnership between the Manor View Drive Neighborhood and the People of Hope Church. Together, they coordinated efforts to establish a nature trail within a 20-acre wooded area near the church.
From May to August, Becca, Annette and over 100 volunteers representing numerous non-profit organizations, cleared brush, removed invasive plants, and seeded native grasses. Money from the Izaak Walton League of America was used to build trail signs and an informational kiosk at the trailhead. Funds from the Minnesota Master Naturalists were used for supplies to help remove buckthorn.
The trail crosses bluff grassland, oak savanna, and mixed hardwood forest habitats with views overlooking Cascade Creek. According to Annette and Becca, "It provides a green haven for physical recreation, environmental awareness, and the peace of mind that comes from being surrounded by nature."